THE COLLECTION
LEGENDS OF THE DRIVEWAY
The Legends of the Driveway collection celebrates Kia and basketball fans everywhere with a unique digital collectible experience.
View the Collection
ABOUT
Kia Driveways
Welcome to Kia's Legends of the Driveway! Become part of Kia's celebration of basketball fans everywhere. As part of our Legends of the Driveway campaign, Kia has created a unique NFT collection. Collect your token to unlock a chance to win limited-edition prizes this season. What is better? Ninety percent of the purchase price from each token sold in this collection will go to MobilizeGreen - a nonprofit helping diverse students secure sustainability internships and conservation jobs.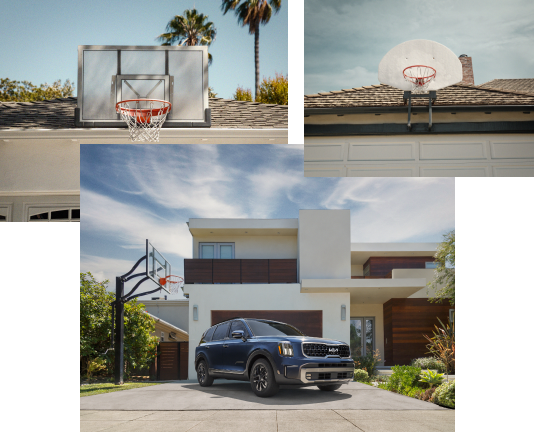 The Collection
Five Driveways of Inspiration
Your court. Where it all began. From the first basket to the late night buzzer beater before the porch light went out. The driveway is the home to legends. At Kia, we've created a collection of driveways to remind us of where it all began.
What is better? Continuing Kia's Accelerate The Good program, ninety percent of the purchase price from this collection go to MobilizeGreen - a nonprofit helping diverse students secure sustainability internships and conservation jobs.
SWEEPSTAKES
Enter To Win!
Ever wanted the chance for an ultimate experience at the NBA All-Star Weekend? Enter for your chance to win a full VIP weekend in 2023. Collect your Legends of the Driveway NFT or enter here!
Term and conditions apply.
Learn More
Frequently Asked Questions
How do I enter the Legends of the Driveway Sweepstakes?
Can I enter the Sweepstakes more than one time?
Can I purchase more than one NFT?
Yes, with five different NFTs in the collection, you do have the opportunity to collect them all.
Note: Sweepstakes is limited to one entry per person. So while we encourage you to collect all five, doing so will still only result in a single entry to the Sweepstakes.
Can I send my digital collectibles to an external wallet?
Yes, you may send your NFT to an external digital wallet.
Note: at this time, Sweet does not support return transfers to the Sweet platform.
What are digital collectibles or NFTs?
NFTs - or non-fungible tokens - are unique collectibles in digital format. To ensure each digital collectible's unique authenticity, Sweet uses blockchain technology to demonstrate rights of ownership and authenticity. This is similar to receiving a "certificate of authenticity" with unique physical merchandise like a signed baseball card.
Are my collectibles unique?
Every digital collectible is unique, individually-numbered, and trackable on the public blockchain with records of authenticity. It might be unique with only one created, or it might be individually numbered and part of a limited series. Sweet creates each collectible series on the public blockchain, including the total number available. Once created, the series cannot be edited or changed by any party, including Sweet or the Big Machine Label Group. The public blockchain also stores a permanent record of who created it, and every owner.
Where does my NFT go once I get it?
Your NFT will appear in your digital wallet. Think of it as the place where you keep all of your digital collectibles. You can access your digital wallet by logging into your account with Kia America's partner, Sweet.
I already have a Sweet account, do I need to create a new account?
What is the environmental impact?
The Polygon blockchain on which these NFTs are minted has the benefit of reducing the carbon impact of NFTs through use of a Proof-of-Stake (PoS) network. In comparison to other blockchains, Polygon consumes just 0.00079 terawatts (TWh) of electricity per year. To put that in perspective, one transaction on Polygon is the equivalent of watching a 30-60 second video on YouTube.
What issue does MobilizeGreen work to address?
Communities of color disproportionately bear environmental burdens. Without leaders who share the values of those communities, their challenges will remain. Only 12% of environmental leaders are people of color, meaning that those who are the most affected by climate change will have the least say in the solution.
What is MobilizeGreen's solution to the diversity leadership gap?
MobilizeGreen develops leaders who share the values of the communities most impacted by climate change. By removing barriers and creating access to career pathways, MobilizeGreen connects youth of color with leadership opportunities through partners working to solve environmental issues. We help young people launch their career, provide access to hands-on work experience, soft skills training, and professional development, and help partners get work done.
I have a question not addressed in this FAQ. Who do I contact?